Archive for the 'Garden Design' Category
By admin On December 22, 2008
No Comments
Rock garden plants are of such variety that some can be found to grow in almost any aspect or under any conditions. However, most gardens will want to grow a fairly broad range of plants and with this in mind it is worth taking some trouble to plan and site a garden. Building entails some heavy labour so it is important to get it right the first time round.
There are three basic requirements that need to be satisfied if a rock garden is to be successful. There must be adequate drainage. Although a large number of alpines and other rock plants need a plentiful supply of water, the water must never be stagnant. A suitable site must, therefore be one where if drainage is not already good, it can be improved artificially. The position should be sheltered from cutting winds. In the larger garden it may be possible to provide a certain degree of shelter by planting shrubs at the edge of a rock garden, where walls and fences can channel fiercely turbulent cold air. A third requirement is that the position should be relatively open and free from overhanging branches.
Dripping from overhead foliage is a more serious problem than light shade. An ideal position is a gentle south-facing slope linking two levels in the garden. However, a natural slope is by no means essential and rock can be used on a level site to build up terraces with a predominantly south-facing aspect. Cost may provide a major factor limiting the amount of rock you are able to use. One of your first steps should be to visit a quarry or nursery where you can buy suitable rock. Try to use a local stone if possible, it will be more in keeping with the surroundings. If you have not already had experience of building a rock garden it is difficult to visualize the amount of rock needed for given site. The advice of a reliable firm will be of great value. A large part of the cost will be incurred in transporting the rock so look for a supply close by.
When building a natural looking feature, resist the temptation to supplement rock with man-made materials, even if you have for instance a ready supply of old bricks. If you cannot afford as much rock as you need, consider constructing a raised bed. In a more formal feature of this kind, man-made materials do not look out of place. Two other considerations should be borne in mind. You should consider how the rock garden will appear from various angles, particularly from the house. Finally, you should take into account ease of access during construction.
By admin On December 17, 2008
No Comments
A patio or paved area next to your house can be a joy for ever, if you get it right. The site will usually dictate the materials to be used and plants that will grow best. Away from the house, paved or terraced areas give much more freedom in the choice of plants and construction materials.
Think carefully how you want to use the area. If you want a barbecue, then more of your patio will need to provide a level, uncluttered space for tables and chairs. If it is to be used by children, then safe surfaces and a few vulnerable pots will be required. If plants are to be the main interest, then the aspect of the site will dictate what will grow best. You must consider your planting plans at the design stage. The range of choices is enormous. Crevice planting? Borders? Raised beds? Pots and containers? Water feature? Climbers?
Be careful to choose materials which blend or contrast effectively with surroundings and which are practical. Do not use gravel where children run, or where it will be walked into the house, and beware of smooth surfaces in shaded areas, they can be very slippery in winter. Be sure to use adequate foundations and that the area drains properly.
How you plant your paved area will depend a lot on how much time you have available to look after it. It is no use developing a mass planting scheme in pots and containers for summer colour on a hot patio if you are not going to be there to water it twice a day in high summer, although there are automatic watering systems which would help. Planting in containers has the enormous advantage of flexibility. You can have different schemes throughout the year and can grow plants that would not grow in your garden soil.
Beds offer easier growing conditions larger root runs and less demanding watering but are less flexible. Raised beds offer the added dimension of height and can be filled with soil of your choice. Many plants like to grow in gaps between paving. This environment gives a cool root run which does not dry out quickly and, if the gaps are filled with gravel, this ensures a dry area round the neck of the plant, which is much appreciated by many alpines. Areas which are heavily walked on require tougher, shorter plants.
By admin On December 17, 2008
No Comments
If you like to relax in your garden at the end of the day, why not treat yourself to a gazebo? Think of it as an open-air 'room' for enjoying yourself in. It's not as posh as a summerhouse, and it's not as basic as a shed. You don't keep your gardening gear in it, though you'll probably want to put garden furniture in it for the summer. It's the perfect place to sit and unwind with a bottle of wine and a bowl of olives when you get home from work on a warm summer's evening. It'll give you years of pleasure, and I bet if you get one, you'll reckon it is your best gardening buy of the year.
What is best about gazebo's is the lovely 'home from home' feeling you get-a bit like camping in the garden. You can make it as comfy as you like. Have a seat with lots of cushions, and a pine cupboard to keep a few essentials in. I'd certainly want to eat out in my gazebo, so a barbecue nearby is essential. Rustle up a few lamb kebabs after work and sit up talking and drinking half the night. Grow a few evergreen herbs like rosemary, French lavender and thyme somewhere handy and chuck the woody herb twigs that are too tough for cooking onto the coal when they start dying down. The scent of the warm herbs is an ideal finish to the night.
When you want to stay out after dark on a nice evening, hang a few garden lanterns with nightlights in them inside or around the gazebo. They add lots of atmosphere, which is great if you have friends round, and even better for a quiet romantic evening for two. You can also get giant candles, which look nice and colourful-just stick them into a border or into big containers of plants as contemporary decorations when they are not being used. But what you must have around a gazebo are some plants, a few pale-coloured flowers in the garden and around the gazebo will show up well at nights.
By admin On December 15, 2008
No Comments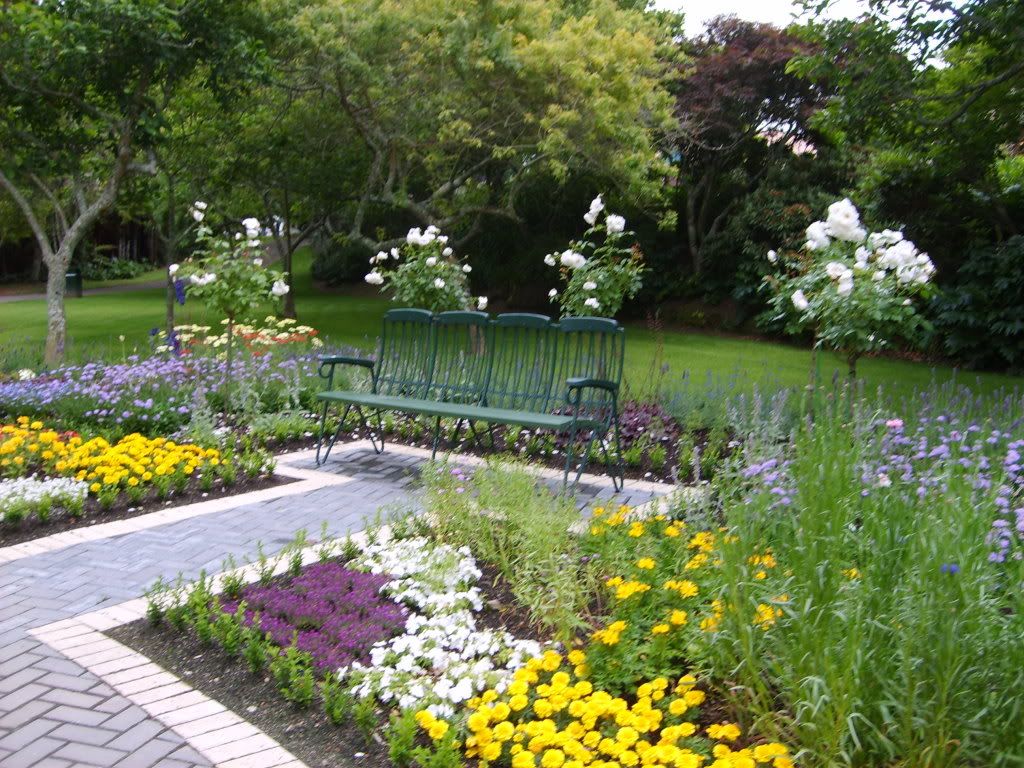 By admin On December 9, 2008
No Comments
A small garden doesn't have to look cramped and claustrophobic. Here are some tips from the world of professional garden designers:
Cover up fences and walls with climbing plants to avoid a cramped "garden-in-a-box" look. The boundaries are camouflaged and become less obvious.
Create vistas if you can. While using trees to block overlooking neighbours, you can also encourage a sense of distance by framing any attractive views you do have and leading the eye towards them using paths running in that direction or with an eye catching feature giving a focal point.
Make sure everything is in scale. Keep flowers, pools, paths, patios, pergolas, statues and benches small and dainty and they will make your whole garden look bigger. Most pots and some ornaments come in different sizes to suit different settings. If your features are too large and out of scale the whole garden will look smaller.
Use flower / leaf colours carefully. Bright colours, particularly reds, oranges and yellows should be used very sparingly near the house or not at all. Pastel shades have a lighter airy feel to them. You can add to the impression of distance by planting flower colours towards the blue end of the rainbow furthest away and those at the red end of the rainbow nearer the house, or the position from where the garden is normally viewed.
Eliminate straight lines. Straight lines create a sense of construction.
Curves create a sense of space. This applies to paths, lawn edges, walls, terraces or ponds. If it can't be built in a sweeping curve, at least cover it up with plants. The most spacious shape for a small lawn is one which imitates a pool of water.
Don't subdivide a small garden unnecessarily with terraces, raised beds or walls or it will look even more bitty. If you have to build retaining walls, make them curved and disguise them with covering plants. The exception would be a very long narrow garden where partially blocking the view can make it look wider.
Use tricks of false perspective to create impressions of depth or width. For example the ellipse shape persuades the eye that it is really looking at a circle, side on which therefore looks deeper than it really is.